Looking for a certain non-standard vehicle to use in your designs? Need to fast track a project but don't have the right vehicle? We've put together a set of the most commonly requested vehicles for AutoTURN available for online purchase. Just download, install, and you're ready to start working!

Meticulously researched and thoroughly developed, the extended vehicles have everything you need to generate a turning simulation.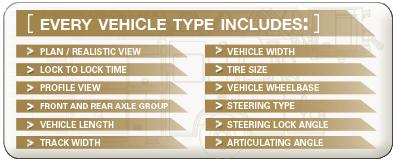 Enquire
Agricultural
Airport
Construction: A
Construction: B
Eco Combi - LZV
Emergency: A
Emergency: B
Emergency: C
Freight: A
Freight: B
Marine Port
Military
Enquire
Mining
Recreational
Refuse Collection: A
Refuse Collection: B
Snow Removal
Tankers
Public Transit
Transport: A
Transport: B
Warehouse
Don't see what you need? Let us know.